Cultural Heritage - Community and Indigenous Archiving and Knowledge Management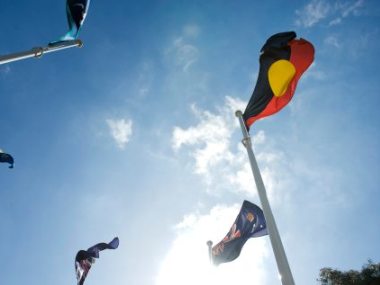 Archival sources of Indigenous knowledge are vital to the healing of communities, sustaining Indigenous living culture, national reconciliation and Australian identity. This sub-theme explores, develop and implements frameworks and systems for the capture, integration, preservation and accessibility of all archival sources of Indigenous knowledge, in whatever form and media, wherever they are located - in communities, Indigenous and non-Indigenous organisations and archives, libraries and cultural institutions, in oral traditions, and in physical and virtual collections.
It also encompasses Visualisation projects which connect Indigenous children, young adults, and community members to their cultural heritage through digital technologies. Visualisation, 3D animation, interactive multimedia games, virtual collaborative spaces and simulations support cross-generational transfer of knowledge, the development of educational materials for Indigenous communities and the wider Australian community, heritage and endangered language preservation, self-esteem and identity amongst Indigenous youth.
Trust and Technology: Building archival systems for Indigenous oral memory
Researchers:
Prof Lynette Russell, Prof Sue McKemmish, A/Prof Graeme Johanson
Partners:
Public Record Office Victoria, Koorie Heritage Trust Inc., Koorie Records Taskforce, Australian Society of Archivists Special Interest Group
Centre:
COSI and Centre for Australian Indigenous Studies (Arts)
Funding:
ARC Linkage 2003-2006
Project website:
http://www.infotech.monash.edu.au/research/about/centres/cosi/projects/trust/
Project outline:
The Trust & Technology (T&T) Project is an ARC Linkage project, with a partnership between Caulfield School of Information Technology, Monash University, Centre for Australian Indigenous Studies, Monash University, the Public Record Office of Victoria, the Koorie Heritage Trust Inc., the Victorian Koorie Records Taskforce, and the Australian Society of Archivists Indigenous Issues Special Interest Group. more...
The focus of the project is on enabling Koorie communities to archive oral memory, and to engage with existing government and institutional archives on their terms.

Related Education and Community Engagement Programs
Monash Indigenous Archives Scholarship Scheme, sponsored by FIT, National Archives of Australia, Public Record Office of Victoria and Australian Society of Archivists. less...
Related theme:
Social Inclusion - Community and Indigenous Archiving and Knowledge Management
Key outcomes:
Holding Gunditjmara Knowledge: Community and records working together
Researchers:
Shannon Faulkhead, Prof Lynette Russell, Prof Sue McKemmish
Partners:
Gunditjmara community, National Archives of Australia, Koorie Heritage Trust Inc
Centre:
COSI and Centre for Australian Indigenous Studies (Arts)
Funding:
ARC Discovery Indigenous Researcher Development 2009-2010
Project outline:
The integration, preservation and accessibility of all archival sources, forms and media of Koorie knowledge are vital to processes of recovery for those affected by past government policies and to national reconciliation. more...
Working in partnership with the Gunditjmara community of the Victorian Western District and the Koorie Heritage Trust, the Project will assist Koorie and other Indigenous communities to access and control information about them and their culture, and to build sustainable community archives. This will help in establishing identity, reconnecting families, pursuing land claims, intergenerational healing, preserving culture, and redress. The Project will place Australia at the forefront of Indigenous archiving research.

Related Education and Community Engagement Programs
Community-based learning and community work experience programs for undergraduate and postgraduate FIT students are proposed. less...
Related theme:
Social Inclusion - Community and Indigenous Archiving and Knowledge Management
Key outcomes:
Visualisation of Aboriginal Songlines
Researchers:
Dr. J. Bradley, Tom Chandler, Dr Amanda Kearney, UNSW
Centre:
COSI and Centre for Australian Indigenous Studies
Funding:
Sidney Myer Foundation (2008), Monash Educational Strategic Initiative Grant (2008-2009)
Project outline:
In conjunction with anthropologist Dr. Amanda Kearney of the University of New South Wales and IT professionals Tom Chandler, Brent McKee and Chandara Ung of the Faculty of IT Berwick Campus, research has begun to see if animation can hold a key that will allow for cross cultural communication between the older Yanyuwa people and their children, grandchildren and great children. more...
At the core of this research is an investigation as to whether digital technology can assist in the education, identity and self esteem of youth. Presently there are five Yanyuwa dreaming stories completed and one partial song line. Work continues on both animation of a complete ceremonial song line and research with the community has begun in regards to the effectiveness of digital technology as a conveyer of Yanyuwa Law and identity. More information.
less...
Related theme:
Social Inclusion - Community and Indigenous Archiving and Knowledge Management
Key outcomes: