Productivity and Innovation - Web Services & Mobile Services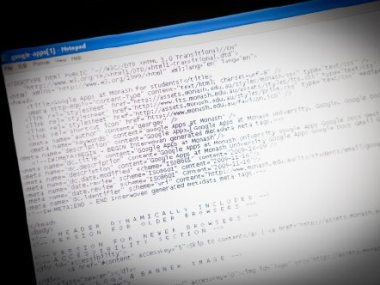 The Web Services and Mobile Services theme has a number of projects addressing the broader priority of IT enabling innovation and productivity. Many of the projects in this theme are closely aligned with the Centre for Distributed Systems and Software Engineering (DSSE).
The rapid expansion of Mobile services (M-Services) is being driven by the proliferation of web services and of the wireless networks. Projects underway in the area include the development of novel strategies for optimising semantic reasoning for realising semantic applications and services on mobile devices, and the development of an Explanation-Aware Distributed Reputation Management (EADRM) framework for the web services environment.
Our researchers working in this area include the Associate Professor Shonali Krishnaswamy (Director, DSSE), Associate Professor Arkady Zaslavsky, Dr Chris Ling and Dr Sita Ramakrishnan.
Designing an Efficient and Scalable Infrastructure for Mobile Web Services
Researchers:
Mr Sunam Pradhan, A/Prof Arkady Zaslavsky, (Lulea University of Technology, Sweden), Prof Zahir Tari (RMIT), Dr J Hu (RMIT)
Centre:
DSSE
Funding:
ARC Linkage 2004-2007 (Completed)
Project outline:
Mobile services (M-Services) are rapidly growing due to enormous proliferation of web services and of the wireless networks. more...
However, because of the high dynamic nature of the Internet as well as the specific requirements of mobile environments, existing M-services have limitations as they lack support for flexible transactions. The aim of this project is to design an efficient mobile transaction-based infrastructure to support highly adaptable M-Services. This infrastructure will provide robust and efficient management of business transactions across different enterprises. The outcomes of this project will include a set of advanced techniques and algorithms that will form the basis of the next generation of mobile web services. less...
Key outcomes:
Discovery and Composition Mobile Web Services
Researchers:
A/Prof Shonali Krishnaswamy (Shonali.Krishnaswamy@monash.edu), Dr Chris Ling (Chris.Ling@monash.edu), Dr Mohamed Gaber, Mr Luke Steller and Mr Chii Chang (Chii.Chang@monash.edu)
Centre:
DSSE
Project outline:
With the emergence of high-end smart phones / PDAs there is an emerging opportunity to enrich mobile / pervasive services with semantic reasoning. more...
This project involves the development of novel strategies for optimising semantic reasoning for realising semantic applications and services on mobile devices. Our mTableaux algorithm optimises the reasoning process to facilitate service selection. We are also developing resource-aware strategies which adaptively reduce result accuracy when resources become low and reduce memory usage by employing a partial ontology loading strategy. Our work significantly improves the performance and scalability of semantic reasoning for mobile devices. We have also developed strategies for adaptive service discovery based on constraints such as availability of computational resources on the device and time available for service discovery. The current focus on the project is on developing an Enterprise Service Bus (ESB) technology that is operational on mobile devices and enables a context-aware composition of mobile web service. less...
Key outcomes:
Reputation Management for Web Services
Researchers:
Dr Wanita Sherchan (Wanita.Sherchan@monash.edu), A/Prof Shonali Krishnaswamy (Shonali.Krishnaswamy@monash.edu), A/Prof. Seng Loke (La Trobe Univ.)
Centre:
DSSE
Project outline:
The phenomenal growth and proliferation of web services has brought with it a gamut of challenges and issues in the context of dynamic relationships in online interactions. more...

There is an increasing realisation that there are significant implications and necessity for mechanisms that foster security, trust and privacy for web services. A key dimension that underpins trust is the notion of reputation. This project has developed an Explanation-Aware Distributed Reputation Management (EADRM) framework for the web services environment. The EADRM framework incorporates a novel quality assessment system which supports personalization of service recommendations with respect to the current user request.
The key feature of the EADRM framework is that it introduces the novel concept of rationale for reputation information. Rationale refers to information that justifies, strengthens, supports and provides context to reputation information. Inclusion of rationale enables the framework to support heterogeneity in reputation management by facilitating exchange and transfer of meaningful reputation information between diverse/distributed reputation management systems.
The dissertation formalises rationale for reputation related information and identifies three main types of rationale. The dissertation also proposes and develops three novel techniques for generating rationale based on fuzzy logic and first-order logic. Furthermore, this dissertation proposes an interaction protocol and a specification language (WS-Rationale) to enable practical exchange of rationale-fortified reputation information in heterogeneous environments. This facilitates processes such as assessment and comparison of web service reputation and selection of a service that best meets a particular user's requirements. A mapping of the specification language to XML, which we call WSRaML, is developed to support the implementation.
In addition, the dissertation presents an approach for integrating rationale-fortified reputation information obtained from heterogeneous sources, thereby demonstrating the use of rationale in making service selection decisions. We have implemented and evaluated a prototype of the EADRM framework and demonstrated that rationale generation facilitates in detecting deception and collusion among users, inferring user references/biases, and providing personalised service recommendations to the users. We have also demonstrated the use of rationale in combining ranked service recommendations obtained from multiple/heterogeneous sources. less...
Key outcomes:
Formal Modelling of Context-Aware Web Services
Researchers:
Dr Sita Ramakrishnan (Sita.Ramakrishnan@monash.edu) and Mr Dhaminda Abeywickrama
Centre:
DSSE
Project outline:
With the proliferation of ubiquitous computing devices and mobile internet, it is envisaged that future pervasive services will be increasingly large-scale and operate at an inter-organisational level. more...
Designing and implementing pervasive services will therefore become a more complex and challenging task. Significant interest exists within the pervasive computing community for representing pervasive services at different stages of the software life cycle. While most of these efforts have focused on the detailed design or implementation of pervasive services little work has been done at the software architectural level.
In this research, we propose a novel approach based on behavioural modelling and analysis techniques for representing pervasive software services and their compositions and verifying the process behaviour of these models against specified system properties. This systematic, architecture-centric approach combines the benefits of principles such as UML, model transformation of Model Driven Architecture, and formal behavioural modelling and analysis techniques through model-checking, for engineering pervasive software services.
In order to illustrate the validity and practical feasibility of the proposed approach we use an existing case study in transport and logistics. The approach will be evaluated to demonstrate the effectiveness of model-checking as a technique for verifying pervasive software services. less...
Key outcomes:
Adaptive Web Site Structuring
Efficient Prediction of Application Metrics for E-Services
Researchers:
A/Prof Shonali Krishnaswamy, A/Prof Arkady Zaslavsky (Lulea University of Technology, Sweden)
Centre:
DSSE
Funding:
ARC Discovery 2003-2005 (Completed)
Project outline:
Application Service Providers (ASPs) are one of the fastest growing classes of e-services and operate on the principle of renting software applications. more...
This project aims to develop prediction techniques to estimate quality of service metrics for ASPs. The efficient prediction of the service levels that can be ensured is challenging given the dynamic nature of the Internet and the semantics of application metrics not being formally defined.
The project will result in the development of a prototype system to support prediction of service levels. This system will be accessible to the Australian e-services industry via a web interface. less...
Key outcomes: